For Reservations and Information
Phone: 512-922-2683
For A Successful Event Make An Early Reservation
= 2023 =
---
The Volleyball and the Horeshoe Corrals. photo: Buddy Lerch
This is Gracie Street. Photo: Buddy Lerch
Gracie Street is named after George's mom.
R.C. Richard's General Store
Room to let 50 cents, "Roger Miller slept here," reports Elmer Elguapo.
Dixie makes a clean getaway from the Jail House.
Each building that George constructs has its own unique character.
She lost her way. I told her where to go. The Ghost Town Grill.
A terrified guy tries to outrun the ghosts buried in BOO HILL CEMETERY. Good luck pal.
Bring the kids to a FREE Movie on the GIANT Outdoor Screen.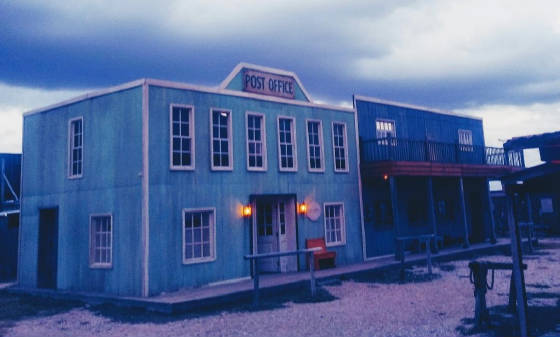 Post Office and Old Fancy Room
Do you believe in ghosts? You'll find yourself one sooner or later..
"Get a room... dirt cheap." - Will Berry, Undertaker.
Photo by Lance Keimig @ http://www.thenightskye.com



Is this what a J.LORRAINE ghost looks like?

Sit by the fire and George will tell you a real spooky story...
A Photography Contest entry
Night or day, come visit J.LORRAINE GHOST TOWN. Bring a camera.
J.LORRAINE'S Reservations Chief, Bob Richards, confirms an event date for a customer.
---
J. Lorraine, TX. Ghost Town
For Reservations and Information
For A Successful Event Make An Early Reservation